CHAPTER THREE
"I wanted to hate him. I hate all kinds of people but particularly his kind..."
Manuscript notes: This chapter begun 6/26/96 in Random Lake, Wisconsin, continued in Baltimore, MD 2/6/97. Interrupted by completing the war/Kinnear side of the story first, then another two month layoff when I participated in the Great Dawson Reenactment.
THE TEXT
I guess I'll never learn. After Dawson City Seven was published, I ran seriously afoul of the family of Norman Watt, one of the Dawson players. It was a great coincidence that brought me in contact with Lydia Watt, Norman's daughter. Before the novel was even accepted by Goose Lane Editions I received a letter from Ottawa. And Lydia Watt described how on a recent trip to the Yukon she was in the Yukon Archives in Whitehorse looking up information about her father, when a clerk overheard her mention his name.
"Did you say you are looking for a Norman Watt?" the clerk asked.
"Why yes," Lydia replied. "Why?"
"Well it's so odd - a writer from Massachusetts called yesterday asking about him."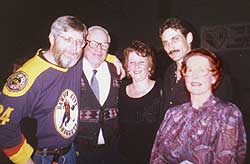 Lydia Watt (on right)

And Lydia Watt asked why a writer from Massachusetts would be looking up her father, and was told for the first time of the great, historical adventure the man had participated in. She never knew until that moment that her father had been part of the infamous Dawson trek, and wrote me soon after describing her father, and offering tidbits of his life in Aylmer, Quebec, before his departure for the Yukon. It was when I called Lydia and explained my novel to her that the conundrum first surfaced. I described the character I had made her father, how I had chosen him to be "Crazy" Norman Watt, always with a flask tucked in his pocket, always carrying on and making the others laugh, and how I chose him to be the Dawson player in Sam Cassady's bar to mock Frank McGee during their Stanley Cup series, and on and on I talked until I paused, and felt the great silence. After a long pause, Lydia, her voice clear with her concern and disgust, informed me, "My father never drank a drop in his life."

It was the first inkling I had as a writer that when writing about real, dead people, you are apt to encounter their real, live descendents. Lydia Watt was so incensed at my fictional portrayal of her father that she started a writing campaign to all the Yukon newspapers when she heard I would be participating in the Dawson reenactment, in an attempt to right the wrongs her family had been subjected to. This all disturbed me, of course, and I tried to make the best of the situation. But the novel had been written, and rewriting her father out of the role seemed too big a project for me, so I thought I'd appeased Lydia by simply toning down his character. I even spoke with Ken Forrest, the grandson of Dawson goalie Albert Forrest, about it.

Ken Forrest is one of those wonderful characters, one you can share a beer with and swap stories with for hours. At his home one evening in Marysville, Washington, after showing me the gold medals his grandfather had won in the Dawson carnivals, he also told me that his grandfather did not drink. But we arrived at the conclusion that what our fathers and grandfathers were like when they were nineteen or twenty years old was probably not how we remembered them. I certainly hope my daughters and their children have some other memory of me other than that of the nineteen-year-old that I was... It was a sour lesson learned, that when writing about real dead people, you may encounter their real, live ancestors. And so it was with a somewhat apprehensive forboding that I chose Alf Smith to be my Ottawan narrator, endowed with a character that, for all I know, may not be completely accurate.

I had some clues, however, just as I knew that Norman Watt, despite the pedestal his daughter placed him on, was no angel, particularly on the ice. During the research on the earlier book, I came in contact with the late Bill Galloway, a former Archivist for the NHL. Bill took the time to speak with me for long hours on the telephone, and at one point told me that Hall of Famer Aurel Joliat had once told him that Alf Smith was, and I quote, "The dirtiest hockey player that ever lived."

Paul Kitchen, in his research on the Ottawa Hockey Club, confirmed that Smith also had appeared in court as a witness for the defense of one of Westwick's brothers, who had been charged with some on-ice atrocity, further providing a clue to his personality.

The record on Smith and his brothers is full of on-ice atrocities. He was one of fourteen or fifteen children. He forged a career in hockey at a time when most held two jobs, indicating his love and dedication to the game. He was my man. And he had to be distinctly different from my Sackville narrator, a young, thoughtful individual destined for the trenches of Picardy.

But, apprehensively, I await the word from the Smith family...

NOTES FROM THE UNDERGROUND

Partial text of Lydia Watt's letter to Yukon newspapers:

"...Don Reddick knew only that a couple of the players on the Dawson hockey team drank. He deduced this from the fact that before the team left Dawson Joe Boyle stressed that there was to be no drinking. Don tried to find out who the drinkers were and in his research found an article in the Dawson Archives which told that my father, when asked to referee a women's hockey game, had appeared on the rink in a dress and carrying a parasol. Based on this incident, Don made the erroneous assumption that my father was a drinker. It's interesting to note that the other hockey player that Don portrayed as a drinker was also later found to be a non-drinker.

"When searching for information on happenings when the Dawson team was in Ottawa, Don learned that after the first game some of the players went to Cassady's Bar and one of the Klondike players heckled the Ottawa team. Unfortunately, Don could not find any documents that stated who that player was. In his book Don had to give a name to the heckler, so picked my father. Don had already made Dad out to be a boozer, so it seemed a logical choice that he would also be the loud-mouthed heckler. Since Dad did not drink, he did not frequent bars. He would not have been in Cassady's and so could not have been the player who shouted insults at the Ottawa team. Of this I feel certain. My father lived by the motto that if you can't say something nice about a person, then don't say anything at all. Having been away from home for several years, and having a very loving family, he would have been spending every free minute at his home in Aylmer.

"I will always regret that when I had the chance to do so before Don's book was published, I didn't insist that he rewrite the parts that defamed my father. It never occurred to me that his book would later be used as a source document since it was classified as fiction. It also never occurred to me that comments such as "a mouthy little Klondiker named Norm Watt doomed the Klondike Nuggets" and "Watt proclaimed through the bottom of his beer glass", would ever be written in reference to my father. The impressions given are totally incompatible with the person to whom they refer.

"I hope from the articles that I am enclosing you will see that Norman Watt was, in fact, a man of great integrity and high principles, a man who made friendships which lasted a lifetime. Had he actually been the type of man portrayed in the book "Dawson City Seven", he would not have been held in the high esteem of which he was. Unfortunately, most of the material I am sending comes as a result of his death, because it was only when it was too late that I realized the need to keep write-ups concerning my Dad.

"Fiona, I would very much appreciate your passing this letter and attachements on to Don Sawatsky for him to read. I realize that he wrote his articles in good faith assuming that what Don Reddick wrote about the various Dawson players was entirely factual. Hopefully this letter will change the poor opinion that Mr. Sawatsky has formed of my father..."

Sincerely,
(Lydia Watt)

Author's NOTE: After a talk on Dawson City Seven in Whitehorse, Yukon Territory, this is what Lynne Frair, the granddaughter of Norman Watt, wrote in my personal copy of the book: "It was fascinating to meet you and to hear all that went into the writing of the book. I'd say it is clear that you care as much or more about my grandfather Norman Watt as I do."

Paul Kitchen:

...you've made Smith, quite deliberately I think, a one-dimensional character. He's full of hate, full of anger. He despises pretension and artifice, and he is profoundly insecure about his own standing in life. He is uneducated and unworldly. Doesn't this make him less interesting than he might have been made to be, especially since he is a central character? The reader would expect a guy like Alf Smith to make liberal use of profanity, and to be true to the character this must somehow be conveyed. Does his swearing need to be that intense? For me, personally, his foul language became a little tiresome, just as that kind of talk is in real life today. I've always thought that the first person point of view is difficult to carry off since the writer is confined to what that character sees and is able to perceive and articulate. If the narrator is some one of great intellect and experience, or even of earthy wisdom, okay...

CHAPTER FOUR

"Sackville's a far-flung village of the marshes, the dominant figures now in their sixties..."

Manuscript notes: This chapter begun 8/16/96. Written in Walpole and Plymouth, MA, Scranton, PA, as well as in room 242, Holiday Inn, Elk Grove Village, Illinois. Notes in the margins include, "I've seen the Somme, I'm ready. 5:10AM Friday morning," "Chapter NUH. (means I been drinkin)", "Todays special - 22 ounce bomber beers. Got one."

THE TEXT

I visited the Somme battlefield in France. This sounds romantic and exciting, and I usually portray my visit to France as such, but this is the reality: I was working in India and had a stopover in Frankfurt, Germany on the way home. I decided to drive to the battlefield. I was told it was four hours away; it took me eight. So after an eight hour flight from Mumbai (Bombay) to Frankfurt, I rented a car, drove eight hours to the Somme, spent four hours walking the land and searching the cemeteries, got back into my car, drove about six hours, pulled over and slept for two, woke up and drove two more hours and took an eight hour flight to New York, waited an hour then boarded the one-hour shuttle for Boston. So much for my romantic research trip to France.

I was not only looking for McGee's grave, but curious to see the land the Corcellette battle was fought over. It is a wide-open landscape, rolling hills with long vistas, church steeples climbing the air here and there, delineating the villages. I had read that even today the Somme is a somber area, the inhabitants quiet and solemn, and Corcellette seemed very much that way to me. I was surprised it even existed; I drove from Cambrai west toward Amiens and was ecstatic when I saw the sign. Pulling into the village, a group of stucco buildings and barns, all of them red-tiled roofed; I saw not one soul in the entire village.

I pulled out some areal photographs taken at the time of the battle and was excited to recognize the road pattern; I knew where I was. I drove up to the Canadian jump-off trench location and just stared over the scene, so wonderful - as in wonder - that this quiet, serene landscape held such morbid, devastating memories. What happened in this land before me is almost incomprehensible, thousands upon thousands of soldiers meeting their death, amidst a fury of war never before realized in human history. Their are over 110,000 soldiers "missing" from the Somme battlefield. They had simply disappeared. One spot is said to have had 10,000 men disappear during the height of its furious fighting.

The British Military Cemeteries are impressive. The care given them, meticulously manicured shrubs, mowed grass, very, very impressive. Several contain vaults in the masonry borders, where you open a small iron door and inside they have lists of names and information on the souls buried there. I regret to say when I saw the information contained, I felt I kind of needed it...and took the register from the Canadian Cemetery, with the greatest intentions to return it when I was through with it. I convinced myself that it was a worthy cause, my writing about these unfortunates... And inside the booklet, among the lists of names, I found the characters for my novel.

I had done this once before. I wrote a book called Victory Faust, a true story that took place in 1911, and had used Charlie Faust's fellow townsmen who had been wounded in the Great War for the other characters in the book. I felt it was something of an honor to use their names, a way of remembering them. And so for some reason - and part of it was certainly that I wanted Laurel Boone in Fredericton, New Brunswick to find one more appealing characteristic of a novel I wanted her to buy - I chose one Andrew Kinnear, of Sackville, New Brunswick, for my protagonist.

NOTES FROM THE UNDERGROUND

From Laurel Boone, editor, Goose Lane Editions:

Dear Don,

There are two factual problems with the Kinnear chapters. One is that the townsite of Sackville was perhaps on an arm of the sea in maybe the 16th century, but by the 1860s, what had been a harbour was completely silted up. People then were amazed that shipbuilding had ever been carried on nearby. Sackville is on extensive and very fertile marshlands, created in part by the diking efforts of the early Acadians (the ones driven out by the British - Evangeline and all that). These marshes border the mud flats of the Tantramar, a river only when the tide is in. It was (and to some extent remains) a farming community. During the 19th century Mount Allison University ( a Methodist college) and the Enterprise Stove Foundry became important sources of town income and focuses of town life. I expect you have received the rather dull history of the town sent last week by now. You might also consider what kind of motors The Girl worked on - this would require research into when internal combustion engines became common in the area. I suspect that on farms, horse and steam power were used, not exclusively, but commonly, until the end of the 1930s or even until after WWII. (This is what happened on the prairies.) She could be a horse doctor - that would demand similar dress and personal qualities.

There's also a harness shop in Sackville today that has been there, I believe, since the Year One.