THE EXPATRIOT
Charley Worthington, Ambergris Caye, Belize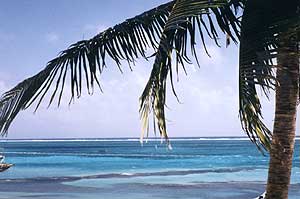 The place is open to the beach, a grey, vine-crawled, weathered clapboard house without windows or doors on the ground floor, a large chalk board menu inside, a fifteen foot long table covered with a multitude of cassettes and beer bottles, a small awning and three circular tiki-thatched roofs covering two rows of square tables on the sand. Blue sailboats twist slowly in the breeze just offshore, blue turning on calm, turquoise-streaked green waters. Beyond, about a quarter of mile out, a line of white breakers marks the barrier reef. Dogs lay under the tables, in the shadows of boats drawn up onto the shore. Local black men blow their noses onto the sand, swear, and drink beer at eight in the morning.
I never had a Bloody Mary in my life until here, now I have 'em every day. But I don't use tomatoe juice, I use V-8. It's my health food. I have been here thirteen years and never worn a shoe. Left Tampa - when I make up my mind, it's law. I was head of --, in line to run the whole thing. I held a steady job seventeen years, played six nights a week in my band. Met my partner every Friday morning, discussed our gigs and whatnot. One day I told him, I'm going. My divorce was long gone, my kids child support paid up. I didn't (save a cent?). I told my partner I'm going to San Pedro.
"You're moving to California?" he asked.
"No, Belize."
"Bel-what?"
I first came down here with my wife Estelle. I met her one night - I'll never forget it - doing a gig in Tampa. She was a student, she was working as household help and goin to school, and I saw her standing there and she just looked different. Couldn't tell where she was from. We went down to San Pedro - Ambergris Caye - back then it wasn't a third world country, it was a fifth. No TV, no airstrip like you got now. Only a ten-by-ten shack. Three streets - it was jungle right over there. Well, I went out on the beach one night and - had Miller beer, and we got just drunk as hell, and they had a campfire right there on the beach, and all the Spanish was dancing around that fire, right at sundown and you know how beautiful sundown is here, and they was cooking up some food and they brought me a plate of rice and beans and chicken, the greatest food I ever tasted, and then I was thinking none of these people know what stress is, don't have a clue where I'm from, most of 'em never seen the inside of an automobile, and tears just started pouring down my face. Just sitting there with them people crying, and I knew this is where I had to be.
The walls are covered with a haphazard array of life; framed pictures of a musical quartet, framed album covers, autographed photos of unrecognizable people. Pictures torn from magazines taped on posts, pictures of women, the kind that seemed riskay in the fifties, line the door to the mensroom. There are signs here and there: "No shirt, no shoes, no problem."
"I'm really trying hard to see your point of view, but I can't get my head that far up my ass."
"Will work for food, will beg for sex."
There are piles of home made cassettes on a table inside the door, everything by Merle Haggard, Patsy Cline, Willie Nelson. The sounds that emanate from inside are an eclectic mix, one moment Jerry Jeff Walker, the next the light, gentle ring of island music.
I couldn't afford nothing when I was down with Estelle, so I bought this little lot in the middle of the village. Just a mud lot. When I make up my mind, it's law. I goes into work on a Monday morning, and I tell my boss you got two weeks notice. He says, "What are you going to do?"
"I'm gonna retire."
He says, "Charley, how old are you?"
"I'm forty-years-old."
"You can't retire," he says. "You're too young to retire, besides, we need you here. There ain't a soul that can do your job. We need you."
"Well, you better find one, 'cuz I'm gone."
I go home and tell Estelle. Now, Estelle grew up here in San Pedro, but she's an American now. She says she ain't goin. She's living in Tampa and driving a Lincoln, got two little kids, says she ain't goin. She goes into the kitchen, comes back in a while.
"How you gonna get there?"
"We're drivin."
"You'll never make it. You'll end up playing music in Mexico for the rest of your lives. Where will you live?"
"I got that lot in the village."
"You village idiots won't ever make it."
Not one in a hundred makes it down here. Know why? Oh they come in and says this is beautiful, we're gonna retire in the Caribbean. Get all excited, buy some land on impulse. Then they move down, and the season ends. It gets hot. Hot. And the trade winds go down, and the mosquitoes come in. They don't call this the mosquitoe coast for nothing. The men do okay, it's the women who don't. They go shopping in town, and after a while they miss the supermarket. There's no McDonalds, no Burger King. They can't find their favorite brand of peanut butter. And the crabs come in, inside the house, in the sink, everywhere. The men, they're messin with their boats, one day it don't start, so what, they fix it tomorrow. The women can't get their hair done, and they leave. Not one in a hundred makes it down here, whether it's a business or just buying a lot and retiring.
This is a unique place. We had a Senator once down here from Idaho, a U-nited States Senator. I don't inquire. I listen, but I don't inquire. And I watched them for a week, until I finally asked him what he does for a livin. He said I was hopin you wouldn't ask. I'm a U-nited States Senator from Idaho. And I'll tell you what Charley, I've traveled quite a bit - U-nited States Senators travel a lot - and I've never seen a place like this. There's no cultural problems, no class distinctions.
And there ain't. You walk into a restaurant, and at one table you got --, with millions, sitting next to six locals who don't have two nickels to rub together, and you can't tell them apart. We got everything here, Americans, Mexicans, Hondurans, Chinese, Columbians and everything else down south, all together here and there ain't no problems. They said I was crazy when I bought this place. I only got fifty feet, it was the - hotel. Bought it for two hundred and seventy thousand bucks in --. These were the two best hotel rooms on the island, under this sand are the most beautiful green tiled floors you'd ever seen. You don't want to throw away them rooms, they said, you don't wanna run no hotel. But I showed 'em, opened up and I live upstairs, I showed 'em. See this beach here? This half-mile stretch is the most expensive stretch of real estate in the entire country. And I own fifty feet of it.
Yeah, I showed 'em.
Charley retreats to the rectangular 'bullshit table,' to sit with his fellow expatriots. They are served Belikin Mayan Temple Beers carefully wrapped in napkins which they remove and wipe the mouth of the bottle with. A burst of palms sways in the gusting trade winds. Pelicans and Eiders sit atop wooden posts in the water, intently gazing out to sea. A red bottle of Marie Sharp's Habanero Sauce, "A Proud Product of Belize" sits atop each table. I lounge for a long time, staring out to sea. I finish my Belikin, and then wander away.