Friends in Lo Places
Changi Village, Singapore
A rain city on the edge of a rain forest, Singapore sits panting and sweating just north of the equator. Torrential rains blow through daily, scattering the varied inhabitants inside and under awnings. The faces of an entire continent: the flat face of the Chinese, whose smiles are wonderful, forcing their eyes closed, the round, Polynesian features of the Malaysians and Indonesians, dark, brooding faces of India, and the shrill staccato voices of the Vietnamese and Laotians.
After two weeks here it seems as though I am part of some Twilight Zone episode where you drive into Chinatown, and then can't find your way out... At a club called Europa down the street there is "the dancing girl," a nineteen or twenty-year-old Chinese girl who constantly dances, whether she is taking your order, serving a beer, or simply standing by the door waiting. She tells us, "Life is too boring when you're stopped." And you don't know pressure until you sit down amidst two hundred Chinese and try to eat your noodles with chop sticks, while they all pause and peer, waiting to see how you do...
But there is always a gem, and here it is a corner bar called Friends. It is cozy, twenty-five seats with an L-shaped bar and pool table, with an eccentric blend of the tasteless and curious covering the walls. There are lances and bows and arrows, framed posters of the Beatles, an Elvis Presley Boulevard street sign, as well as an assortment of license plates. A non-working rotary dial telephone hangs in one corner. The woman behind the bar cannot speak English. Two ceiling fans temper the heat. A roving band of cats loiter outside, playing an endless cat and mouse game with the proprietors. They dash through the door every chance they get, only to be chased down and thrown back out, the barkeepers lecturing them sternly each time. Behind the pool table is a doorway with a hanging blanket you must push aside to find the toilet. But the best part about the place is that they play only American music, and if I ask, they put on the Country CD. Half way around the world, you find that the voices of Tanya Tucker, Brooks and Dunn, and Travis Tritt sound like long-lost old friends. Marvelous to see Chinese tapping their feet, Indians slapping their thighs to some good ol' shit-kickin music. It is a great little bar, and it is only appropriate that it is here that I meet with Richard Dailey.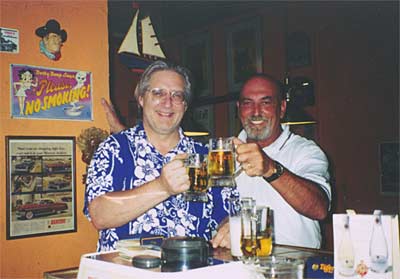 Don and R.D. in Friends

He is an imposing individual, six feet tall, broad shouldered with a shaved head and goatee. He carries himself with an almost animal presence, a lean confidence, deeply tanned, with a great south-Texas accent. He is a very happy man.

"Don, I'm one of the ten percent of the people who can't wait to get up in the morning and go to work. I loooove what I do," he drawls over a pitcher of Tiger Beer. "I don't have to work. I've got a ranch just south of the Hill Country. I've got enough money so I never have to work another day in my life. But I loooove what I do." And then he tells me what he does: he is one of the foremost deep-water retrieval men in the world. He was in on raising the Liberty space capsule, he worked on the Swiss Air, TWA, and Alaska Airlines crash sites. He pulled JFK Jr. up off the coast of Marthas Vineyard. He provides lurid details which cannot be repeated out of deference to the victim's families. How does he handle what he's seen?

"No, I don't forget it," he says, pointing to his temple. "It's all here, I can't forget it. No, we don't laugh about it. No one laughs about it. Hell, people don't like it that I make damn good money retrieving bodies, but I'm doing a service, an invaluable service." He leans over the table and points at me. "Don, this is your daughter, this is your brother, this is your mother, the DNA proves it. It's the only way that we can definitely say who was on that plane. We provide an invaluable service."

He is quick with a laugh, and speaks in a determined, confident manner. The kind of guy who conveys a complete contentment with himself.

"We were on the Titanic site last summer," he tells me. "There are nine thousand plates down there worth ten thousand dollars apiece, and we were ready to bring 'em up but we were stopped by the authorities. Some guy in France actually has bought the rights to the site, and he stopped us... On the Swiss Air flight there were fourteen gold bars, millions of dollars, and a Picasso. We found the frame." Stories roll out with a profusion of laughs and slapped knees. We laugh when we realize we've both sat in the same veranda bar in Belize, Charley's Bar. I test him: How 'bout the Palapa Bar? "Oh," he replies, the smile emerging, "everyone has a drink in the Palapa Bar..." He's excited when he hears I'm going to Key West next week. "Go have a beer in the Green Parrot, but don't mention my name..." But then Richard Dailey leans forward and says the magic words: "And next June we're going after the San Jose."

A Spanish treasure ship sunk by a British Man-of-War in 1708, it has lain off the coast of Columbia for the past three centuries. Richard describes his team, the agenda. "There's nine hundred million dollars worth of gold down there," he says, "nine-hundred-million. And we're gonna get it. We know within a two-square mile radius where it is. And we can only work four hours a day, six to eight weeks, we figure. The bottom of the sea gets disturbed, so we're only good for four hours a day. So we're gonna have fuuuuuun." Richard Dailey leans back in his chair, sips his Tiger Beer, and smiles a famous smile. "Next year at this time Don, I'm gonna be a veeeeeery wealthy man!"

I suddenly realize that one of those magical moments in life is occuring, that as a writer I have realized a chance encounter with a great, great story. I lean back over the table and tell Richard Dailey that if he takes me on, I will write the book about it. And furthermore, I am just the guy to do it, a guy who loves characters, Pirates, rogues, who can produce a book about modern day Pirates...and on and on... He tells me the leader of the band is arriving in Singapore this coming Thursday, and it was this gentleman who would make any final decisions on who would be going. "I'll introduce you to Mike Thursday night," he tells me.

Tuesday evening we met in Friends. Richard was eager to talk about the coming adventure. I told him the only way for me to convince Mike was first to convince him. "Oh, you convinced me the other night," he replied. And so it is now Thursday afternoon, and I am waiting for Thursday evening. I want this interview to go well. I have my dirty sneakers and Hawaiian shirt ready. I haven't shaved in two days. I'm gonna stroll over to Friends and start drinking at four. I want this job interview to go perfectly...